DKM BISMARCK
REVELL - 1:700
Año de construcción / Year of build: 2016
Excelente kit de Revell, a mi entender el mejor del famoso acorazado en esta escala. Las piezas tienen un gran detalle y el encastre es casi perfecto. La única falencia que le he encontrado es que no trae la posibilidad de representarlo en casco completo o navegando (waterline). Dado que he optado por la segunda opción, debo construir una base que me permita "hundirlo" en ella, ya que prefiero no cortar el casco. Además, voy a colocarlo en un pequeño diorama junto al U-556, sumergible clase VII C, para lo cual utilizaré el kit de Hasegawa, el cual he conseguido gracias a mi amigo Pablo Ruiz.
An excellent Revell kit, the best of the famous battleship on this scale, I think. The pieces have great detail and snap together almost perfect. The only flaw I found is that it doesn't offer the possibility of a full hull or waterline choice. Since I opted for the second option, I must build a base that allows me to "sink" the ship in it, as I prefer not to cut the hull. In addition, I will place it in a small diorama near the U-556, a VII C class u-boot, for which I will use the Hasegawa kit, that I have achieved thanks to my friend Pablo Ruiz.
Construcción
Building
A continuación algunas fotos del modelo pre-ensamblado y con los fotograbados de los sets de White Ensing Models. Ya está casi listo para comenzar los trabajos de pintura.
Following some photos of the pre-assembled model improved with the PE sets form White Ensing Models. The model it's almost ready for painting.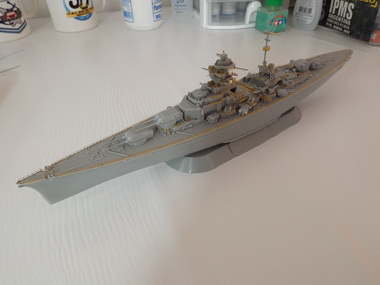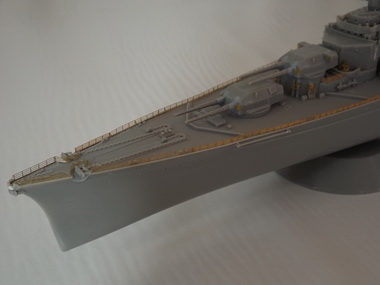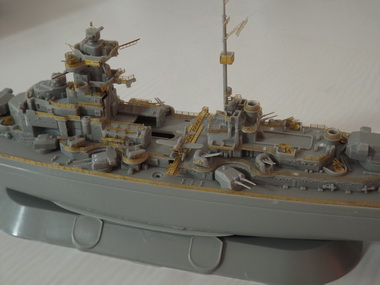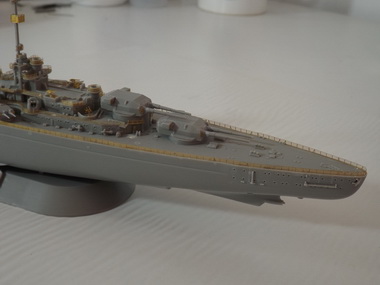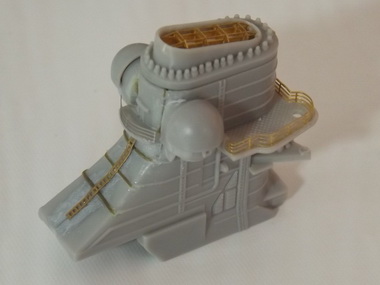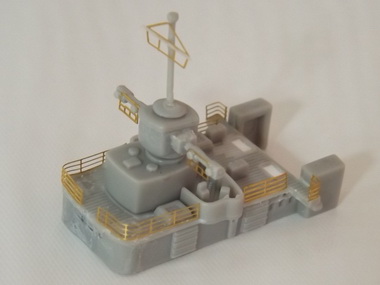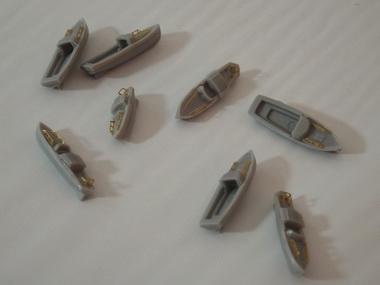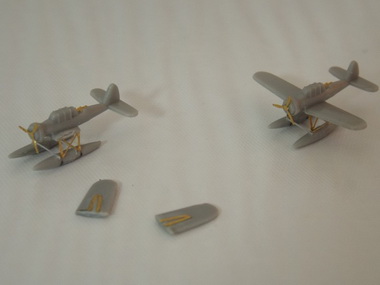 Las dos fotos que siguen corresponden a las antiáereas, construidas con los sets de WEM, son diez en total.
The next two photos shows the AA guns, from WEM. A total of ten pieces were build.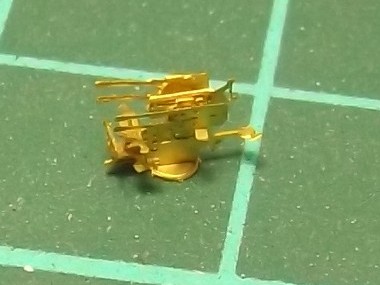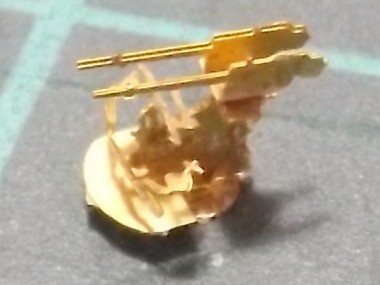 Aquí debajo el sumergible clase VIIC, U-556. Como dije, he utilizado el kit de Hasegawa, mejorándolo con fotograbados provenientes de distintos sets y adaptados para la ocasión.
Down here the VIIC Class u-boot, U-556. As I said, I used the Hasegawa kit, improving it with photo-etched parts from various sets and adapted for the occasion.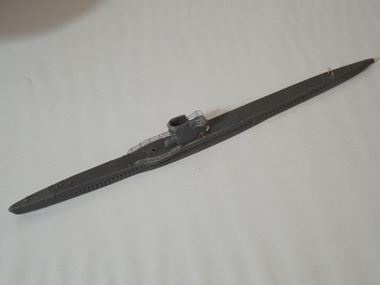 Pintura
Painting
En estas imágenes ya se aprecia el modelo colocado en su base junto al sumergible y con el trabajo de pintura finalizado. Sólo resta el montaje final. Se utilizó el set de colores de la Kriegsmarine de Sicko Models, más el blanco y negro de Tamiya. Para simular el agua, una vez pintada la base del color elegido, se aplicó el Agua Artificial Cristal, también de Sicko.
In these images you see the model placed at its base next to the u-boat and with the finished paint. Only remains the final assembly. I chose the Kriegsmarine colors set from Sicko Models, plus black and white from Tamiya. To simulate the water, once painted the base with the chosen color, I proceeded to apply Artificial Crystal Water, from Sicko too.