HMS HOOD
TAMIYA - 1:700
Año de construcción / Year of build: 2017
Se trata del antiguo kit de 1976 que, a pesar de los años, sigue siendo una pieza de calidad. La versión que ofrece para realizarlo es la de 1941, durante la Batalla del Estrecho de Dinamarca. Además, para mejorar el modelo y detallarlo he escogido el set de Voyager Model, muy completo con varias piezas en fotograbados, cañones torneados y los cobertores de las troneras en resina.
This is the old kit from 1976 that, despite the years, is a quality piece. The version that it offers to realize it's the 1941 one, during the Battle of the Denmark Strait. In addition, to improve the model and to detail it I have chosen the set from Voyager Model, very complete with several PE pieces, turned brass gun barrels and resin blast bags.
Construcción
Building
Aquí les dejo algunas fotos del kit, más detalles del set de Voyager y los primeros pasos de la construcción del buque, con varias de sus piezas en lo que será su posición final.
Here are some photos of the Tamiya kit, details of the Voyager set and the first steps of the construction of the ship, with several of their pieces in what will be their final position.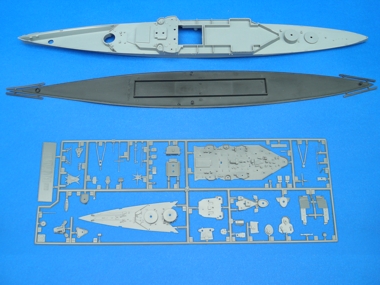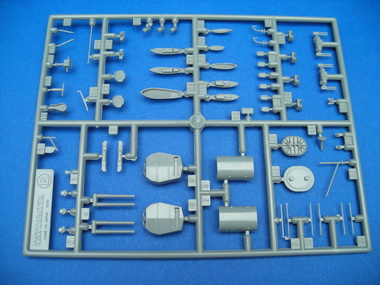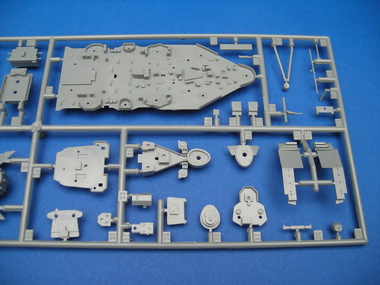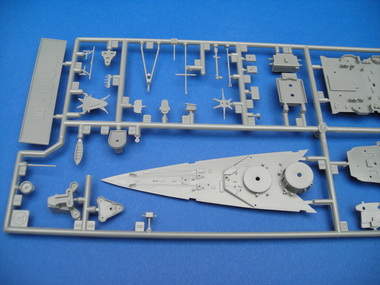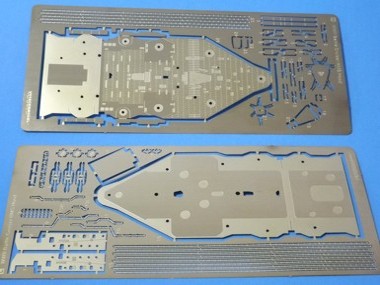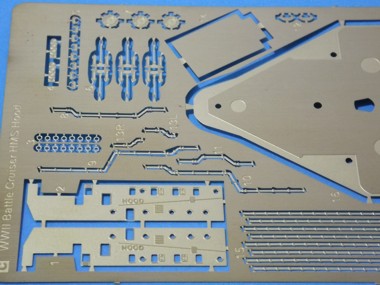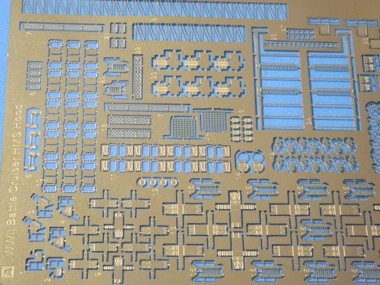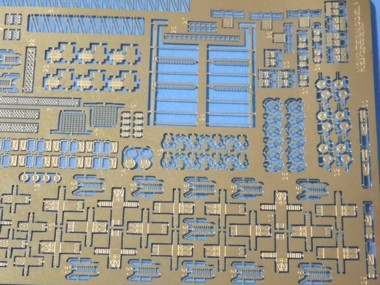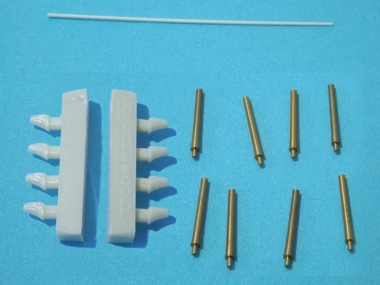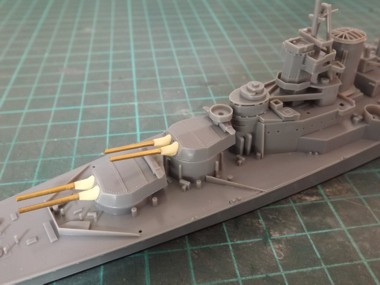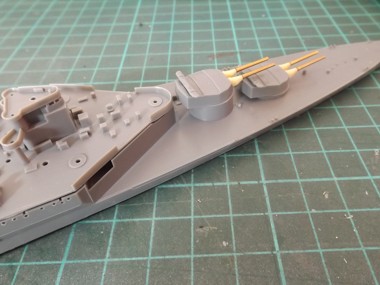 A continuación más fotos del armado del buque. Debo decir que los fotograbados de Voyager son de excelente calidad, pero algunas de las instrucciones son erróneas y además están incompletas, quedando piezas que no se han indicado dónde colocarlas, debiendo recurrir a otras referencias para su correcta ubicación. Otra falencia son los topes de las chimeneas, cuya medida es incorrecta y debí reconstruirlos utilizando parte de la pieza de fotograbado y plástico estirado. Ahora sólo resta terminar el detallado y próximamente comenzaré la pintura.
Below more photos of the ship's assembly. I must say that the PE set by Voyager is excellent, but some of the instructions are wrong and incomplete, there are pieces that have not been indicated where to place them, and I must look in other references for their correct location. Another failure are the funnel caps, the size is incorrect and I had to rebuild them using part of the PE piece and stretched sprue. Now all that left is to finish the detail work and soon I will start with painting.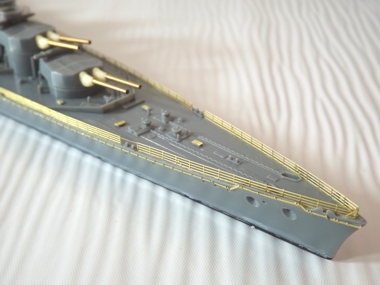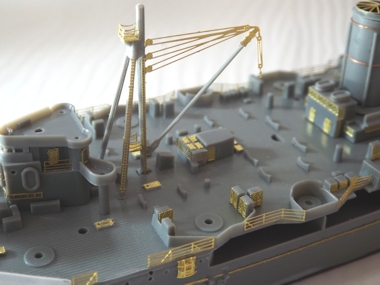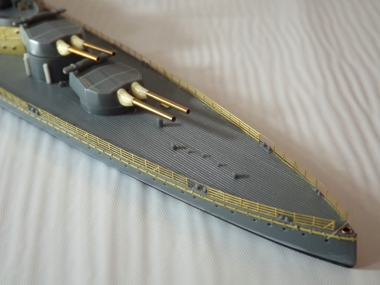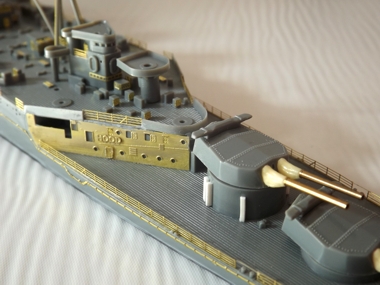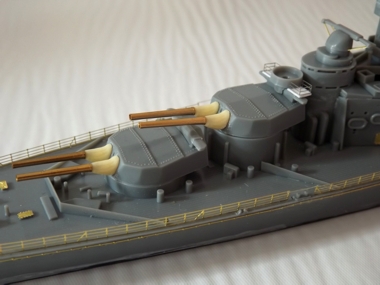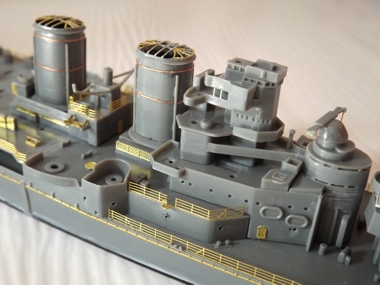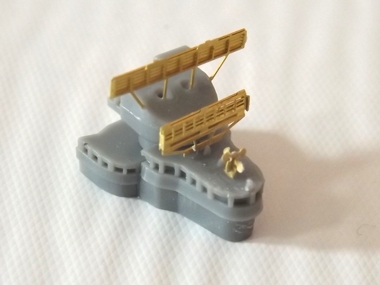 Ahora algunas imágenes más de los trabajos con los fotograbados y otros detallados, sólo resta construir parte del armamento secundario y antiaereo previo a comenzar la pintura.
Now some images of the work with more photoetched parts and other details, only remains to build part of the secondary and AA weapons prior to starting with the paint.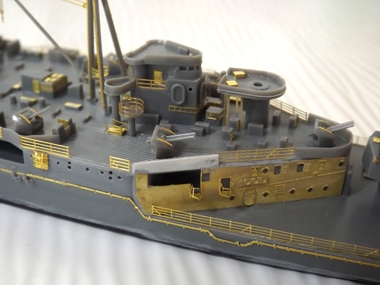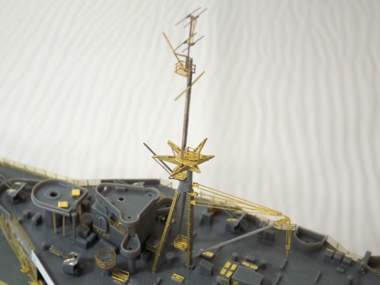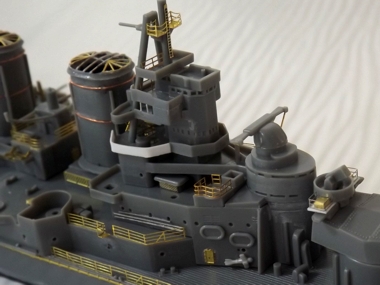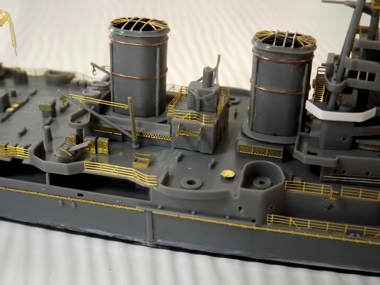 Pintura
Painting
La pintura base del modelo fue realizada con esmaltes Humbrol. Para lograr el color del buque debí mezclar en partes iguales los siguientes: Gull Grey (140), Navy Blue (77) y White (34), según lo aconsejado en la página de la Hood Association. La cubierta fue imprimada en Brown Yellow (94) y luego desgastada con lavados para dar efecto madera. Sólo resta dar los desgastes al modelo para poder finalizarlo.
The basic painting of the model was made with Humbrol enamels. To achieve the color of the ship I mixed in equal parts the following ones: Gull Gray (140), Navy Blue (77) and White (34), as adviced at the Hood Association website. The deck was primed in Brown Yellow (94) and then I applied washes to give wood effect. It only remains the weathering to finish it.