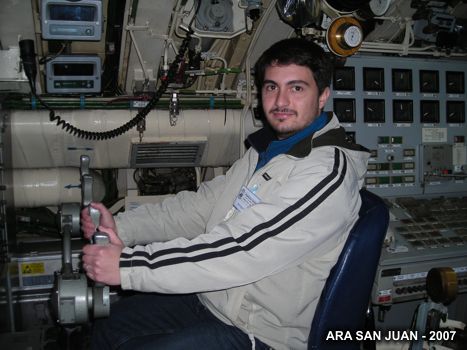 Mi nombre es Santiago Ezcurra, y soy de Mar del Plata, Argentina. Nací en 1977, trabajo como abogado y practico el modelismo desde chico aunque con mayor dedicación desde que terminé los estudios universitarios, hace casi veinte años.
La afición por el modelismo creo haberla heredado de mi padre quién, al ver cómo le destruía sus modelos aún sin armar, decidió comprarme mi primera maqueta cuando tenía unos 13 años. El también se dedicaba al modelismo naval y de allí supongo que viene mi predilección por este tipo de modelos.
Me asocié al IPMS Argentina - Mar del Plata en el año 2006 y ahí fue donde pude desarrollar plenamente este pasatiempos, aprendiendo de los demás socios que rápidamente me integraron y transmitieron su experiencia en el hobby. Presidí la institución entre 2017 y 2019, cumpliendo ahora más de quince años como socio activo.
Además de los modelos navales suelo armar otros tipos de maquetas, principalmente algunos vehículos militares pequeños, pero los buques son los que abarcan la mayor parte de mi colección. Por otro lado, este hobby lo desarrolo como entretenimiento personal, no armo modelos a pedido ni comercio con los mismos. Creo que de esa manera puedo disfrutar más libremente de esta afición.
Pueden contactarme a través de la sección de Contacto de este sitio y con gusto intercambiaremos experiencias y conocimientos relacionados al modelismo.
¡Un cordial saludo desde Mar del Plata, Argentina!
My name is Santiago Ezcurra, from Mar del Plata, Argentina, and was born in 1977. I'm a lawyer and have been practicing modeling since I was a child, although with greater dedication since I finished my university studies, almost twenty years ago.
I think I inherited my hobby for modeling from my father who, seeing how I destroyed his still unbuilt models, decided to buy my first model when I was about 13 years old. He was also dedicated to ships modeling and that's where I suppose my predilection for this type of model comes from.
I joined IPMS Argentina - Mar del Plata in 2006 and that was where I was able to fully develop this hobby, learning from other partners who quickly integrated me and transmitted their experience in the hobby. I presided over the institution between 2017 and 2019, now having more than fifteen years as an active member.
In addition to the ship models, I usually build other types of models, mainly some small military vehicles, but ships are the ones that make up most of my collection. Likewise, I develop this hobby as a personal entertainment, I don't build models for commission or trade with them. I think that in this way I can enjoy this hobby more freely.
You can contact me through the Contact section of this site and we will gladly exchange experiences and knowledge related to modeling.
Kind regards from Mar del Plata, Argentina!