ARA LA ARGENTINA
SCRATCH - 1:700
Año de construcción / Year of build: 2012
En esta oportunidad construimos en scratch el crucero ligero ARA La Argentina (C-3), el cual prestara servicios en nuestra armada entre los años 1939 y 1974. La escala escogida es 1:700 y el material utilizado en su mayoría es plástico de alto impacto de diferentes grosores. Además se utilizarán accesorios de White Ensign Models y resinas y fotograbados de fabricación propia. El buque será representado en su configuración original, mostrada desde su entrada en servicio hasta 1947 y de acuerdo a los planos adquiridos en el Museo Naval de la Nación, en la localidad de Tigre.
This time I will build the cruiser ARA La Argentina (C-3), which served in our Navy between 1939 and 1974. The chosen scale is 1:700 and the mostly used material are plasticard sheets of different thicknesses. Also I will use White Ensign Models accessories and some home made resins and photo etched parts. The vessel will be represented in its original configuration, shown since commissioning until 1947 and according to the plans acquired at the National Naval Museum, in Tigre.
Construcción del casco
Hull building
Como dije anteriormente, el material utilizado es básicamente plástico de alto impacto. Para construir el casco (en formato waterline), se utilizó plástico de 1mm para la estructura y de 0.3mm para su forrado. Además, para evitar el combado, se pegaron dos listoncitos de madera a la base.
As mentioned above, the used material is basically plasticard. To build the waterline hull I used sheets of 1mm and 0.3mm. Furthermore, to prevent the buckling of the hull, I glued two wooden strips to the base.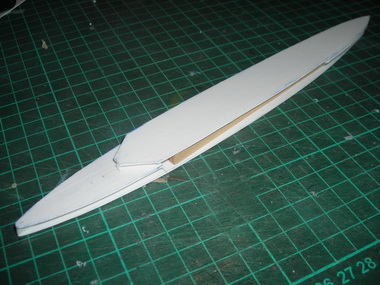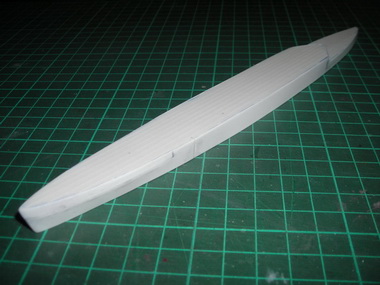 Superestructuras
Superstructures
Las superestructuras de este buque se encuentran conformadas principalmente por el puente de mando, las torretas, chimeneas y mástiles, entre otros componentes menores, todo en plástico de alto impacto, a excepción de los mástiles.
This ship superstructures are formed mainly by the bridge, turrets, funnels and masts, among other minor components, most of them build in plasticard, except for the masts.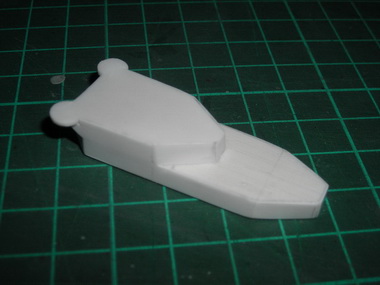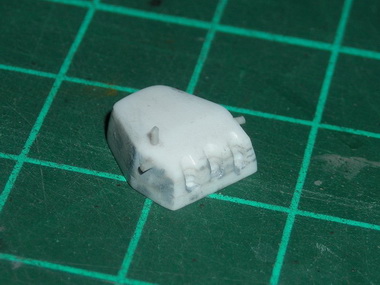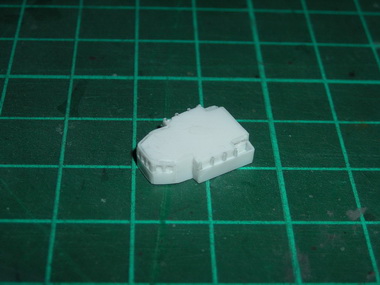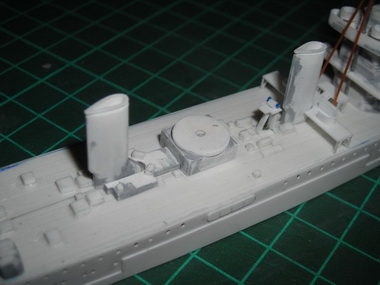 Accesorios de WEM
WEM accesories
Para el detallado de la maqueta se utilizaron accesorios de White Ensign Models. Los mismos consisten en dos planchas de fotograbados y lanchas, botes y balsas salvavidas en resina. Los fotograbados corresponden al HMS Penelope, buque de la clase inglesa Arethusa -del cual deriva este crucero-, y el restante es un set para buques británicos anteriores a 1950.
To detail the model I used White Ensign Models accessories. They consist of two PE sets and resin lifeboats. The photo etched sets correspond to HMS Penelope, an English cruiser of the Arethusa class, from which derives the light cruiser La Argentina, and the other one is a set for pre-1950 British ships fittings.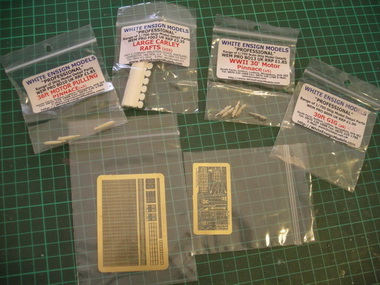 En las siguientes imágenes pueden observar varios de estos accesorios ya colocados o presentados en su lugar definitivo.
The following pictures show these accessories already placed or presented in its final position.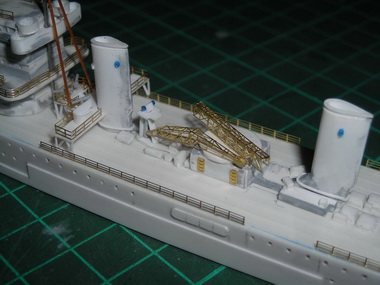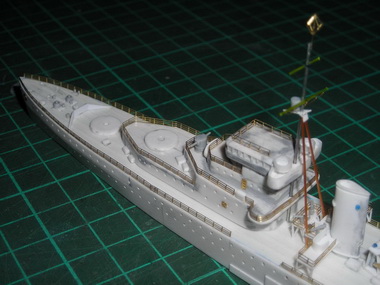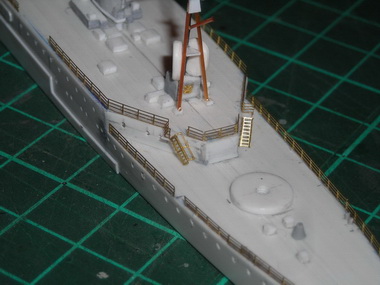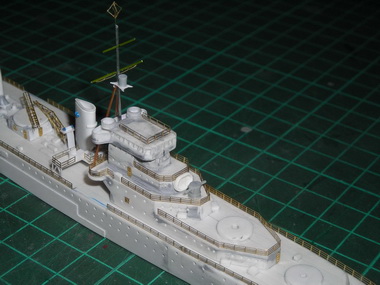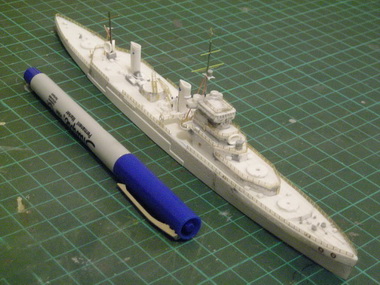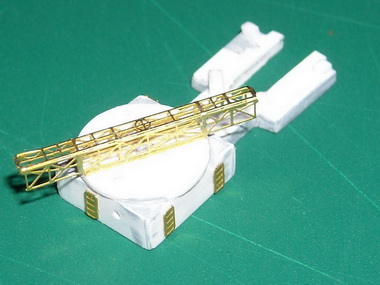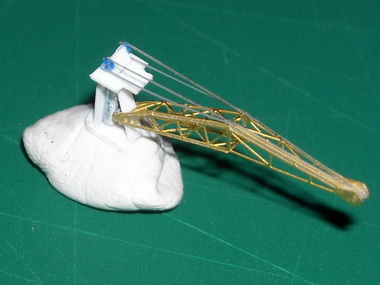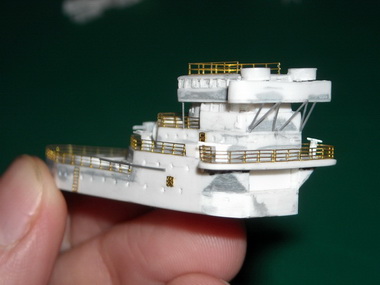 Resinas y fotograbados propios
Home made resin and photo etched parts
Para realizar algunas piezas fue necesarios construir un master y luego copiarlas en resina, y así no tener que construir varias piezas similares desde cero. Además se copiaron piezas provenientes del kit del HMS Prince of Wales de Tamiya, también en escala 1:700 y con componentes compatibles con este proyecto. Entre las piezas de fabricación propia se encuentran las torretas, los directores de tiro y las casamatas de los cañones secundarios de 101,5 mm. Del kit de Tamiya se copiaron las balsas salvavidas pequeñas además de uno de los botes y los reflectores. Respecto a los fotograbados, se realizaron la plataforma de los cañones de saludo y antiaereos como así también las aberturas del puente alto, dado que no había quedado conforme con los realizados con el plástico.
For some pieces was necessary to build a master and then copy them in resin, and thus not have to build several similar pieces from scratch. Also I copied parts from the kit of the HMS Prince of Wales from Tamiya, in 1:700 scale (small rafts, one of the boats and searchlights). Among the home made pieces are the main turrets, gun directors and the casemates of the 101.5mm guns. The platform of the anti-aircraft guns as well as high bridge openings were home made etched parts, because I was not happy with those made with plastic.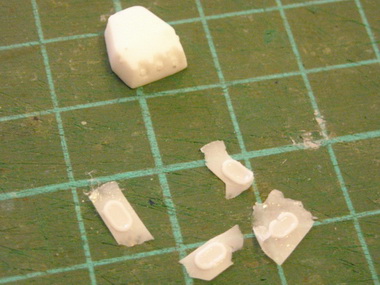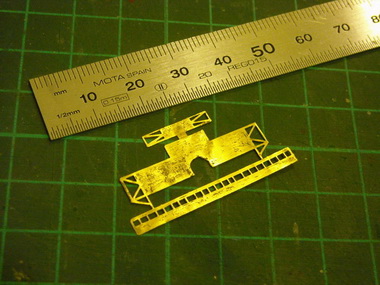 En las fotos que siguen pueden ver el modelo con la gran mayoría de sus piezas presentadas para tener una idea del que será el aspecto del mismo una vez finalizado. El hidroavión Walrus también corresponde al kit del HMS Prince of Wales de Tamiya. Ahora sólo resta comenzar con el proceso de pintura.
In the photos below you can see the model with most of the pieces presented to get an idea of what the ship will look when finished. The Walrus seaplane also corresponds to the HMS Prince of Wales kit from Tamiya. Only remains to start with the painting process.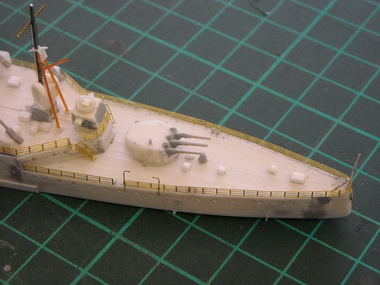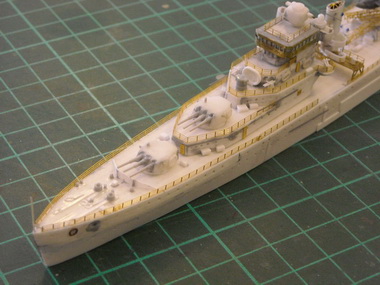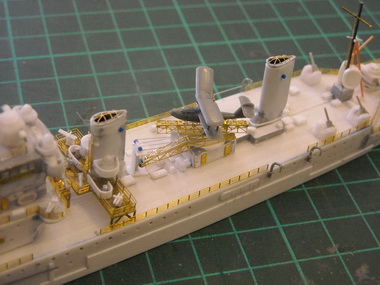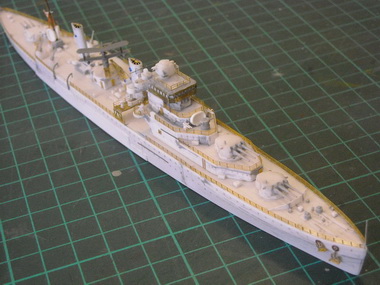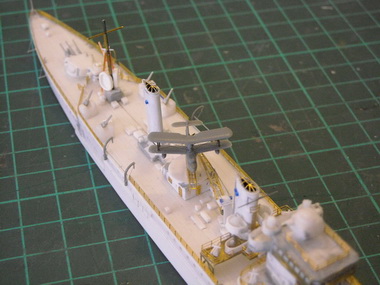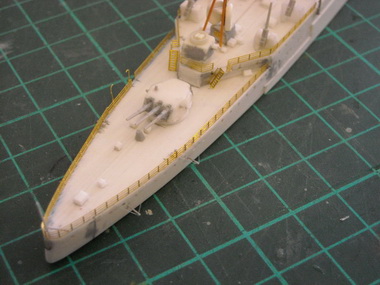 Pintura
Painting
Las imágenes que siguen corresponden al modelo con la pintura base ya aplicada. En este caso utilicé esmaltes Humbrol para el casco y las superestructuras (Light Grey 64), rebajándolo con un 25% de blanco para lograr el efecto de escala. La cubierta fue pintada con una base acrílica en amarillo tostado y luego se aplicaron esmaltes rojo y verde muy diluidos para simular la teca. El hidroavión Walrus, también fue pintado con colores Humbrol (56 y 69). Posteriormente se aplicó cera brillante acrilíca para pisos como protección para después realizar los desgastes a base de óleos, finalizando con una mano de barniz mate.
The following images correspond to the model with the base paint already applied. In this case I used Humbrol enamels for the hull and superstructure (Light Grey 64), adding 25% of white to get the scale effect. The deck was painted with tan yellow acrylic base and then red and green enamels applied highly diluted to simulate teak. The Walrus seaplane, also was painted with Humbrol colors (56 and 69). Then I airbrushed glossy acrylic floor wax for protection before the weathering process with oil paints, finishing the job with a coat of matt varnish.