ARA SANTA FE (S-21)
AFV CLUB - 1:350
Año de construcción / Year of build: 2013
En esta ocasión pretendo representar al submarino ARA Santa Fe (S-21), de la clase Guppy, y que prestara servicio en la Armada Argentina desde 1972 hasta su pérdida en la Guerra de Malvinas en 1982. El kit elegido es el Guppy II de AFV Club, el cual es correcto, pero que necesita numerosas modificaciones para representar la unidad argentina. Para ello es necesario reconstruir toda la cubierta, los agujeros de inundación, construir el contenedor de la balsa salvavidas y otras reformas menores en la vela.
This time I intend to represent the ARA Santa Fe (S-21), a Guppy class submarine, wich served in the Argentine Navy from 1972 until his loss in the Malvinas War in 1982. The chosen kit is the Guppy II from AFV Club, which is correct, but it needs many changes to represent the Argentine unit. This requires to rebuilding the entire deck, limber holes, scratch build the liferaft container and other minor reforms at the sail.
Modificación del casco y cubierta
Hull and deck modification
Para lograr este cometido opté por realizar fotograbados propios. Luego de investigar los métodos y con la pequeña experiencia obtenida en la construcción del ARA La Argentina, eche manos a la obra.
Las fotos que siguen tratan de ilustrar el proceso para realizar los mismos. En primer lugar se deben diseñar las piezas en un programa de dibujo vectorial (Corel Draw, Illustrator, etc.) e imprimirlas -en láser- sobre papel termosensible, y en formato espejo. Una vez hecho eso, es necesario transferirlas al metal. Yo utilicé lámina de bronce de 0,15 mm de espesor, la cual debe estar perfectamente limpia y plana. La transferencia se obtiene al apoyar firmemente el papel con el lado impreso sobre la lámina y aplicar calor mediante una plancha. Eso hará que la tinta se desprenda del papel y se adhiera al metal.
El siguiente paso es corroer el metal para lograr ya la forma definitiva de las piezas. Eso es posible sumergiendo la lámina en percloruro de hierro. Este químico desvasta el metal hasta hacerlo desaparecer en aquellas zonas no protegidas por la tinta. Desde ya, hay que cubrir el reverso del metal para que el líquido no lo ataque, para ello es suficiente colocarle una cinta adhesiva. En mi caso, necesitaba lograr dos diferentes niveles de grosor sobre la cubierta, debido al dibujo de la misma. Eso es posible retirando el metal a mitad de proceso y aislando aquellas zonas en las cuales no queremos mayor erosión. Se pueden pintar esos sectores con enamel para protegerlos.
Finalizado este paso, solo queda limpiar la tinta del metal (he probado con acetona y funciona correctamente) y tendremos las piezas listas para colocarlas en el modelo.
To achieve this aim I chose to make my own photoetched parts. After researching the methods and with the little experience obtained in the construction of ARA La Argentina, I set to work.
The next photos are intended to illustrate the process. It's necessary to design the pieces in a vector drawing program (Corel Draw, Illustrator, etc.) and print it -in laser- on thermal paper, on mirror format. Once you do that, you need to transfer them to the metal. I used an 0.15 mm thick bronze sheet, which must be perfectly clean and flat. You need to firmly support the paper with the printed side on the bronze sheet and applying heat using an iron. That will make the ink off the paper and adhere to the metal.
The next step is to corrode metal and achieve the final shape of the pieces. This is possible by immersing the bronze sheet in ferric chloride. This liquid corrodes the metal until it disappear in those zones not protected by the ink. Of course, we must cover the back face of the metal so that the liquid doesn't attack it. It's sufficient to place a tape. In my case, I needed to accomplish two different levels of thickness on the deck, due to the design of it. This is possible by removing the metal at half process and protecting those areas which you don't want further erosion. You can paint those sectors with enamels to protect them.
After that, it's only remains to remove the ink adhered to the metal (I tested with acetone and works well) and we will have the parts ready to place them in the model.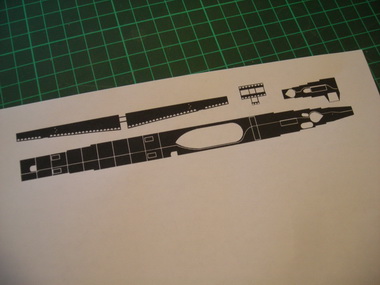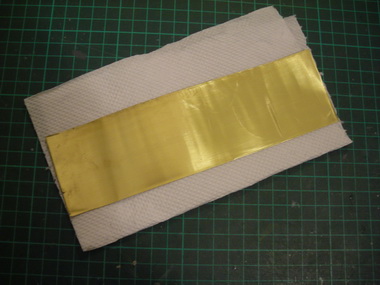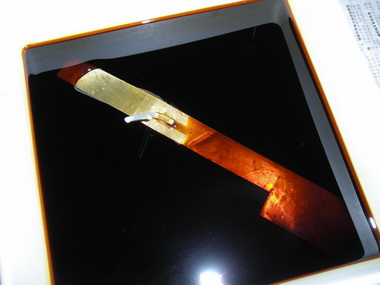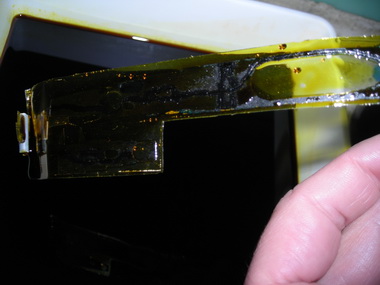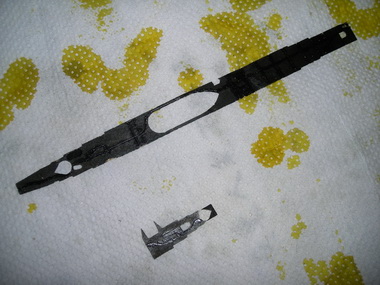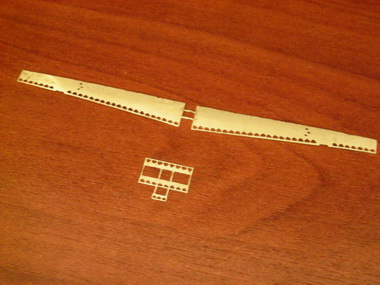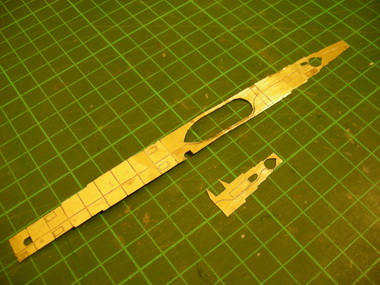 En las imágenes siguientes ya se observan los fotograbados caseros colocados en el modelo, además de otras modificaciones como el contenedor de la balsa salvavidas y el cambio de ubicación del ancla, de babor a estribor.
In the following images you can see the homemade photoetched parts placed in the model, as well as other modifications as the liferaft container and the change of the anchor location, from port to starboard.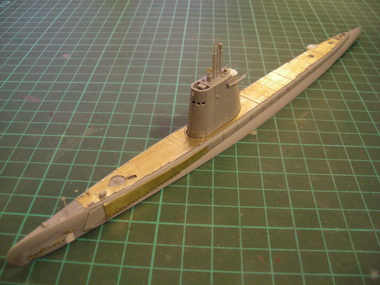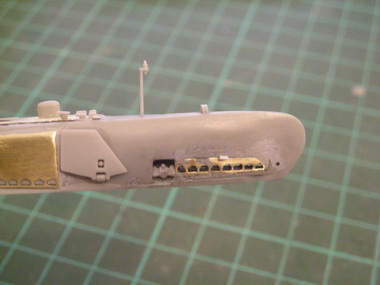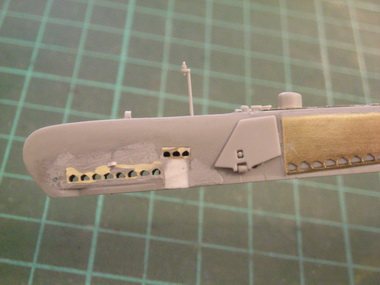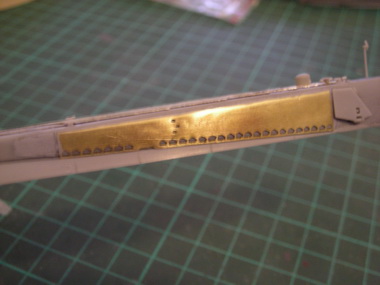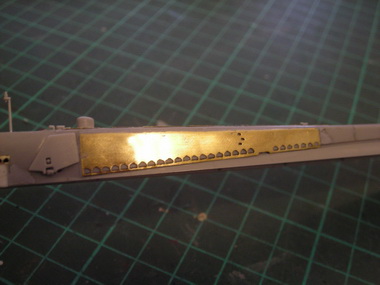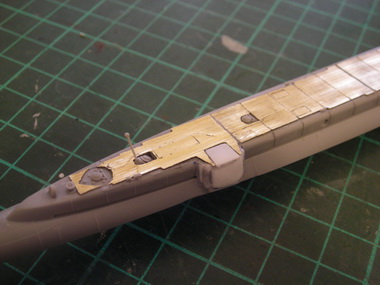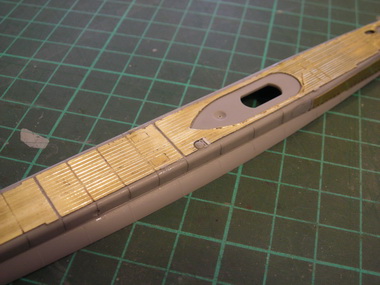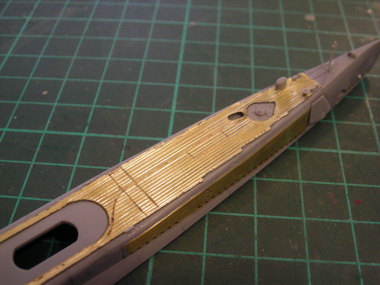 La vela
The sail
Esta parte no representó mayores inconvenientes y sólo hubo que realizar un pequeño detallado.
This part presents no major problems and only had to make a small detailing work.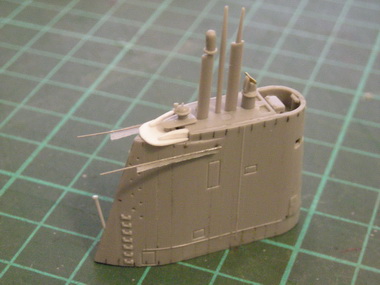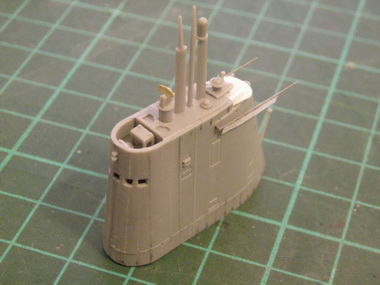 Pintura
Painting
El trabajo de pintura fue muy sencillo, utilizando principalmente acrílicos de Tamiya. El desgaste fue realizado con óleos.
The paint job was very simple, mainly using Tamiya acrylics. Weathering was done with oils.